When a new building is designed, it is usually demanded that as much lettable space as possible is made available. Plant-rooms and other service facilities must be space-efficient and not take more room than necessary. Renovation of existing properties brings other demands. The 20 year old plantroom is often not big enough to meet today's energy efficiency requirements. Today, there are several different types of air handling units on the market. There are different types of heat exchangers that are selected depending on the activity and it is possible to choose whether the duct connections should be placed on the sides or on the top.
The benefits of combining side and top connected air handling units
With a modularized air handling unit construction, it is basically possible to combine the different parts as you need. Right or left, one, two, three, or four duct connections that are side-mounted or top-connected. Depending on the application, the rotary heat exchanger or the counterflow heat exchanger can also be selected.
When designing a new property, where the air handling unit is located on different floors, space can be saved. Instead of having two shafts for outdoor air intake and exhaust air, the inlet can be placed in the façade and only one shaft is used for the exhaust air. By having the supply and exhaust air on the top, the ducts can be placed in the ceiling void.
Example: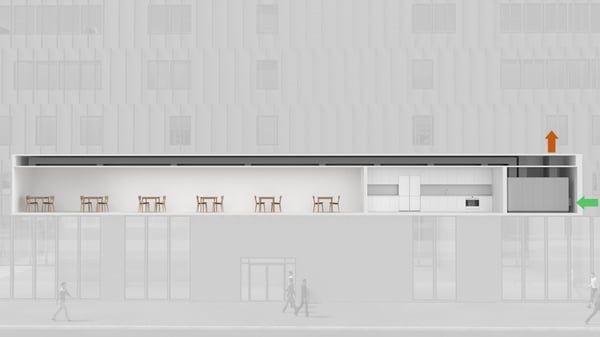 If the air handling unit is located in the attic, space can be saved by having the supply and exhaust air connected on the side. Outdoor air and exhaust air go directly up through the roof from the top connections.
Space and energy efficiency in existing properties
In this example, an existing air handling unit, located in the attic, is designed to meet the energy efficiency requirements of the time. All duct connections were placed on the side.
To meet today's demands for energy efficiency and to comply with the ErP Energy directive, a physically larger air handling unit is required.
The new connection options make it possible to place a new air handling unit in the existing fan room.
Existing air handling unit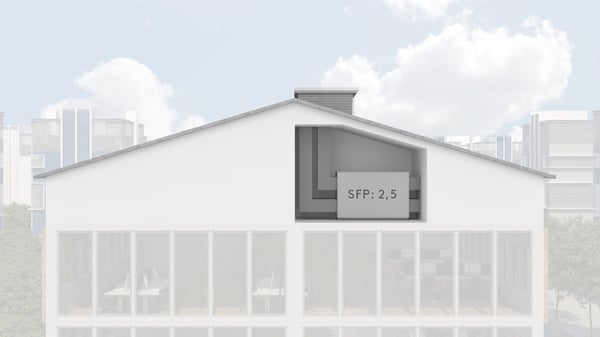 New air handling unit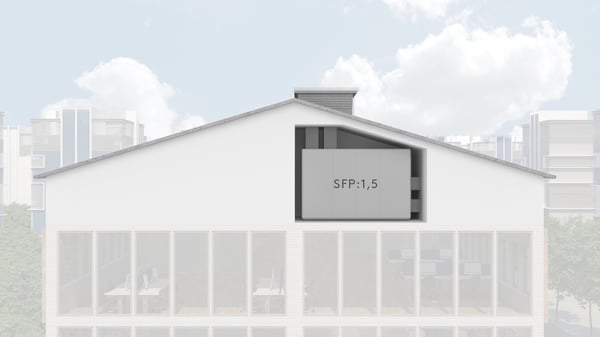 If you are interested and want to test on your own, then why not give SWEGON 's product selection program AHU Design a try and test different connection options to suit your specific needs click here
P.S. For more information, get in touch with your local Swegon contact or visit Swegon.com