Many construction projects are now utilising highly insulated buildings with extensive glass surfaces and high internal heat loads. When combined with the needs to provide the ideal indoor environment (IEQ) and the push by the UK government towards net zero 2050, there is often a need in many commercial buildings for simultaneous heating and cooling within the same building, and with the minimum impact on the environment.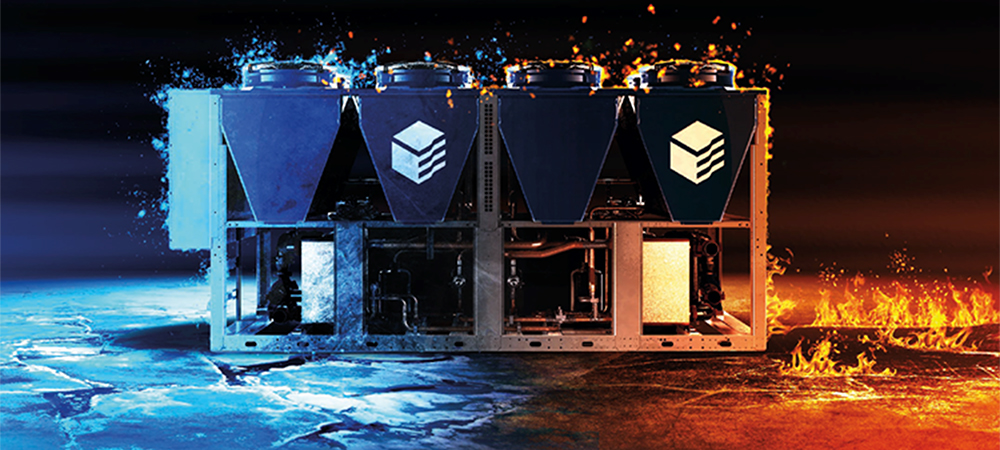 What are 4 pipe multifunctional units?
Sometimes referred to as multifunction, multipipe, multipurpose or polivalent heat pumps. These air to water 4 pipe units can simultaneously provide heating and cooling via 4 pipes (cooling and heating).
Here are six reasons to consider this as a future proof solution…
Reduced capital outlay; one box solution


Save on your initial cost by buying one unit that can cater for both your cooling and heating needs as opposed to buying separate units for each.

Lower maintenance/running costs.
Reduce operational costs and maintenance by choosing a unit that maximizes heat recovery and provides maximum efficiency in terms of primary energy.
Fully automatic integrated controls between heating and cooling with automatic heat recovery, Dynamic water temperature adjustment possible.
One simple set of controls means that you can manage the demand for both heating and cooling in a simplified way.
Reduced CO2 emissions & NOx pollution vs Gas boilers.
Multifunctional four pipe systems such as our Omicron unit provide greener energy due to its ability to re-use waste energy for free heating.
Reduced refrigerant quantity on site vs. VRF or multi splits.
Multifunctional units use a lower refrigerant charge compared to other traditional options
Less plant room space, more leasable space.
It may seem obvious but having one unit to control your heating and cooling, rather than multiple units, frees up available space that could be leased in your building.