As an industry first, Swegon's CASA range of ventilation units and cooker hoods now have lifecycle assessments (LCA) and Environmental Product Declarations (EPD) documentation in place.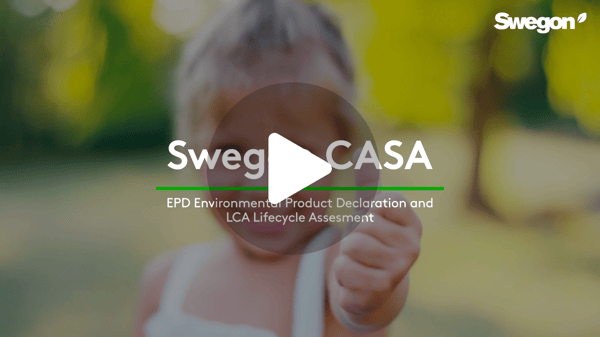 What is EPD?
An Environmental Product Declaration (EPD) is an independently verified and registered document that communicates transparent and comparable information about the environmental impacts over a product's lifecycle. The EPD for CASA is compiled by Ramboll Finland and certified by Bureau Veritas.

The Swegon CASA EPD covers both the most common ventilation units and cooker hoods. This means that over 95% of the Swegon CASA products are included in the EPD.

The calculations cover all the environmental impacts from raw material supply, transports, manufacturing, lifetime of use and recycling. The environmental aspects are becoming more and more important when selecting building components. Now constructors, designers and installers can use the data from the declarations to better compare and understand the environmental impacts of different products. The certificate ensures that data in the declaration is verified and can be used in building level carbon footprint calculations.
Our carbon footprint
Besides the carbon footprint caused by the operation of the product, the environmental aspects of the manufacturing and the selection of raw materials, packaging and logistics are also taken into account. CASA units are made in the Kaarina factory where only renewable energy is used for manufacturing. Also, the installation, maintenance and user manual can be downloaded in a digital format with a QR-code, which reduces the use of paper significantly.

Nevertheless, a ventilation unit needs electricity to operate and this causes carbon emissions during its lifetime of use. However, the carbon footprint from an air handling unit is relatively small compared to many household appliances. Contrary to most appliances, ventilation units doesn't only create emissions. It actually saves a lot more energy than it consumes, thanks to the integrated heat exchanger which recuperate the heat in the extract air and transfers it to the supply air. With Swegon CASA ventilation units the benefits from saved energy exceed the carbon footprint of manufacturing in less than one year.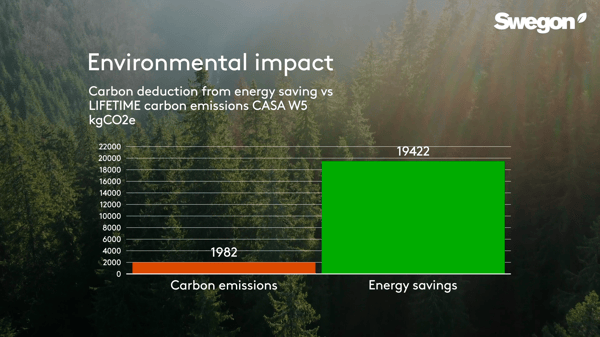 CASA EPD and Bureau Veritas Certificate
For more information and to see other Swegon products with EPDs click here